Apple iPhone 13 series battery life test
96 views Yuda Electronic (HK) Technology Co.,Limited. 2021-11-29
The battery life of the iPhone has always been criticized, especially the poor battery, which is not in the same class as many Androids, but on the iPhone 13 series, the battery capacity has been fully improved, the A15 SoC is more energy-efficient, and the battery life performance is also remarkable. View. The battery capacities of iPhone 13 mini, 13, 13 Pro, and 13 Pro Max are 2406mAh, 3227mAh, 3095mAh, 4352mAh, respectively, which are 8.0%, 14.6%, 9.9%, and 18.0% higher than the previous generation.
First of all, at a standard refresh rate of 60Hz, simulating daily Wi-Fi Internet access, the iPhone 13 Pro Max reached an astonishing 21.68 hours, far exceeding any other model (iPhone 12 Pro Max was not tested for some reason).
The battery life of the iPhone 13 Pro and iPhone 13 also exceeded 21 and a half hours, not only leading the ROG gaming phone 5, Samsung Galaxy S21U and other long battery life models, compared with the previous generation, respectively, extended by 4.29 hours and 3.67 hours respectively.
iPhone 13 mini is more general and only lasts 10.7 hours.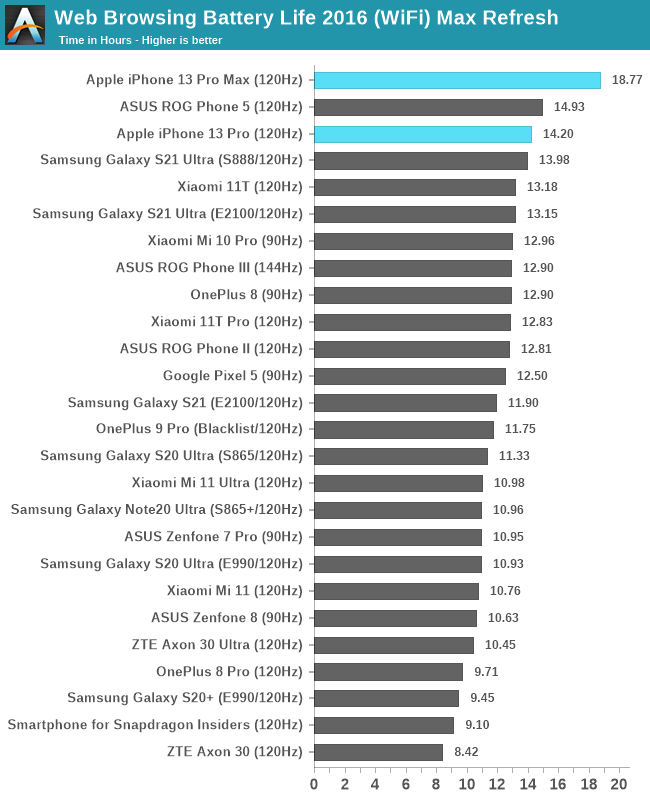 Next is the contest between high-brush phones. 120Hz is turned on for the 13 Pro series. As a result, the iPhone 13 Pro Max used up 18.77 hours. iPhone 13 Pro also lasted 14.20 hours.