The fast charging era is silently changing our charging habits
56 views Yuda Electronic (HK) Technology Co.,Limited. 2020-11-27
In the era of fast charging, our charging habits are silently changed. More and more friends will choose a mobile phone that supports fast charging. At present, most of the chargers of mobile phones and charging devices are A port output, and PD requires TypeC interface. PD is a fast charging protocol, and Type-C is a new interface specification. The Type-C interface supports up to 5V/3A by default, but after the USB PD protocol is implemented, the output power can be up to 100W. All mobile phone users can better enjoy the fast charging technology, which is convenient for everyone.
18W/30W/45W/65W, support 5V3A, 9V3A, 12V2.5A, 15V3A, 20V2.25A five kinds of charging voltage, with output overcurrent/overvoltage/temperature protection. Product design strictly refers to UL/ETL, CE, FCC, CB and other safety regulations.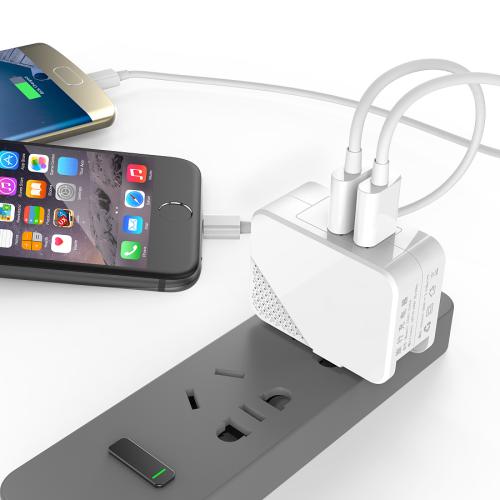 PD fast charge charger has a round appearance, the shell is very comfortable skin-like frosted plastic, looks simple and beautiful, stable output voltage, and can provide multiple circuit protection. The product has two color combinations of black and white. The entire surface is seamlessly designed, and plugs suitable for various regions can be freely replaced, and fixed plugs or cable connections can also be selected.
The advantages of original PD charger:
1. The USB-C port supports 18W/30W/45W/65W PD protocol, and supports fast charging of Apple mobile phones and Apple notebooks. Can be described as the industry's most compatible 18W/30W/45W/65W AC port charger.
2, using German high-quality PC material, high temperature resistance, cold resistance, 94VO safety and fire protection rating
3, small size, high power, fast heat dissipation, comprehensive protection, support for customizing various specifications
4, over 6 levels of energy efficiency, low power consumption, higher charging efficiency
5. Adopt mainstream PD charging chip solution, good compatibility