Structure of mobile phone charger – phone charger wholesale supplier
331 views Yuda Electronic (HK) Technology Co.,Limited. 2019-12-26
Structure of mobile phone charger
 
It is understood that mobile phone chargers are actually composed of a stable power supply (mainly a regulated power supply, providing a stable working voltage and sufficient current) plus necessary constant current, voltage limiting, and time-limiting control circuits.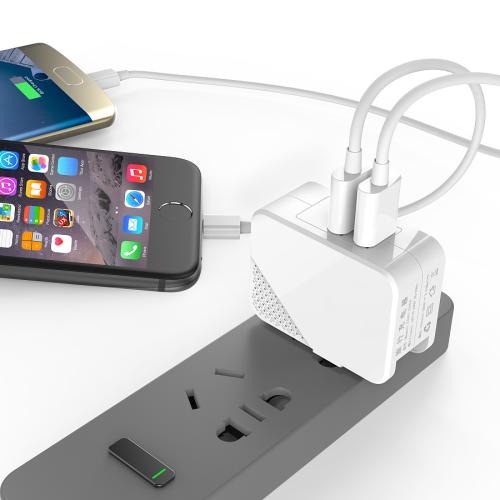 The output parameters marked on the original charger: For example, the output 5V / 1A refers to the relevant parameters of the internal regulated power supply. Lithium-ion battery chargers commonly used for mobile phones use a constant-current voltage-limiting charging system. The charging current is generally about C2, that is, a two-hour charging rate. For example, a 500mah battery is charged at 250ma for about two hours.
 
Lithium-ion batteries are not suitable for the fast charging method of DV / DT used in advanced fast chargers of lithium-ion batteries, because lithium-ion batteries have strict restrictions on the charging current. Lithium-ion (Li +) is very lively and charging at high currents is easy Dangerous.
 
According to the destructive experiment report provided by relevant lithium-ion battery experts: Under normal circumstances, lithium-ion batteries (cells) generally do not explode when discharged (including short circuits), but they may overheat and burn, but they are more serious. The over-current charging situation is very easy to explode!
 
In addition, we must remind everyone that not only the inferior chargers cut corners on the selection of internal components, but also the internal structure layout is extremely unreasonable, lacking the necessary insulation protection, so that the high-voltage part is completely exposed near the USB interface, coupled with rough workmanship, it is easy Leakage. So it is safer to choose a genuine charger.