The car charger manufacturer tells you what is the difference between 1.0A and 2.4A?
17 views Yuda Electronic (HK) Technology Co.,Limited. 2020-09-08
The car charger is an accessory that is used to charge digital products anytime and anywhere with the convenience of the car power supply. It is usually used for car battery chargers (12V for cars, 24V for trucks). It is widely used in the field of lithium battery charging for various portable and handheld devices, such as: mobile phones, PDAs, GPS, etc.; car chargers must consider the actual needs of lithium battery charging (constant voltage CV, constant current CC, overvoltage protection OVP) , It must also take into account the harsh environment of the car battery (transient spike voltage, system switching noise interference, EMI, etc.); therefore, the power management IC selected for the car charging solution must also meet: high voltage resistance, high efficiency, high reliability, and low frequency ( Conducive to EMI design) switching power supply chip.
Car charger 2.4A and 1.0A refer to the maximum charging current that the car charger can provide. If multiplied by the output voltage of 5V, it is the rated power of the car charger.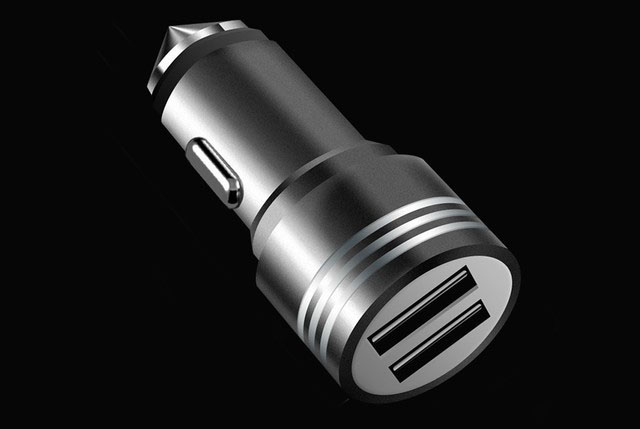 But it does not mean that when charging a mobile phone or IPAD, it is 2.4A and 1.0A, because this is related to the charging circuit of the mobile phone. Generally, Apple mobile phones can be charged with a charging current of 1A to 1.3A, and the IPAD may be above 1.6A. Therefore, it is best to buy a car charger with an output capacity of 2.4A or more, such as 3.1A, 3.4A, or even 4.8A, so as to ensure that at the same time It can also be faster when charging two devices.
In addition, generally the two ports of the car charger are also marked with 2.1A and 1A respectively, which refer to the maximum output current of this output port. The total output of this car charger is 2.1A. According to the device being charged, select the appropriate output port.
Not all car chargers with sufficient power can charge Apple and Android devices according to the charging current that the original charger can provide. For example, in order to protect their original chargers, Apple and Samsung have set up a charger recognition circuit for the charging current. . This leads to a slower charging speed with non-original chargers, not whether you are 3.1A or 2.1A.
The road is one foot high, and the magic is one foot high. Some professional manufacturers use smart identification chips to identify charging mobile phones and provide the best charging current. Don't look at a small car charger. There are still a lot of specialties. Try to buy products with brands and moderate prices. Don't be greedy for cheap. In general, a car charger that can provide a larger charging current has better charging speed, heat generation, lifespan, and circuit protection.
With the development of the technology market, there is basically one smartphone per person. Especially with the development of in-vehicle interconnection technology in recent years, the connection between mobile phones and cars has become closer and closer, which directly leads to faster consumption of mobile phones, so car charging Then came into being, and quickly spread to most car owners. However, the quality of the products varies greatly, and the improper use of most car owners causes losses to the vehicles.